Our Boiler Selection Guide -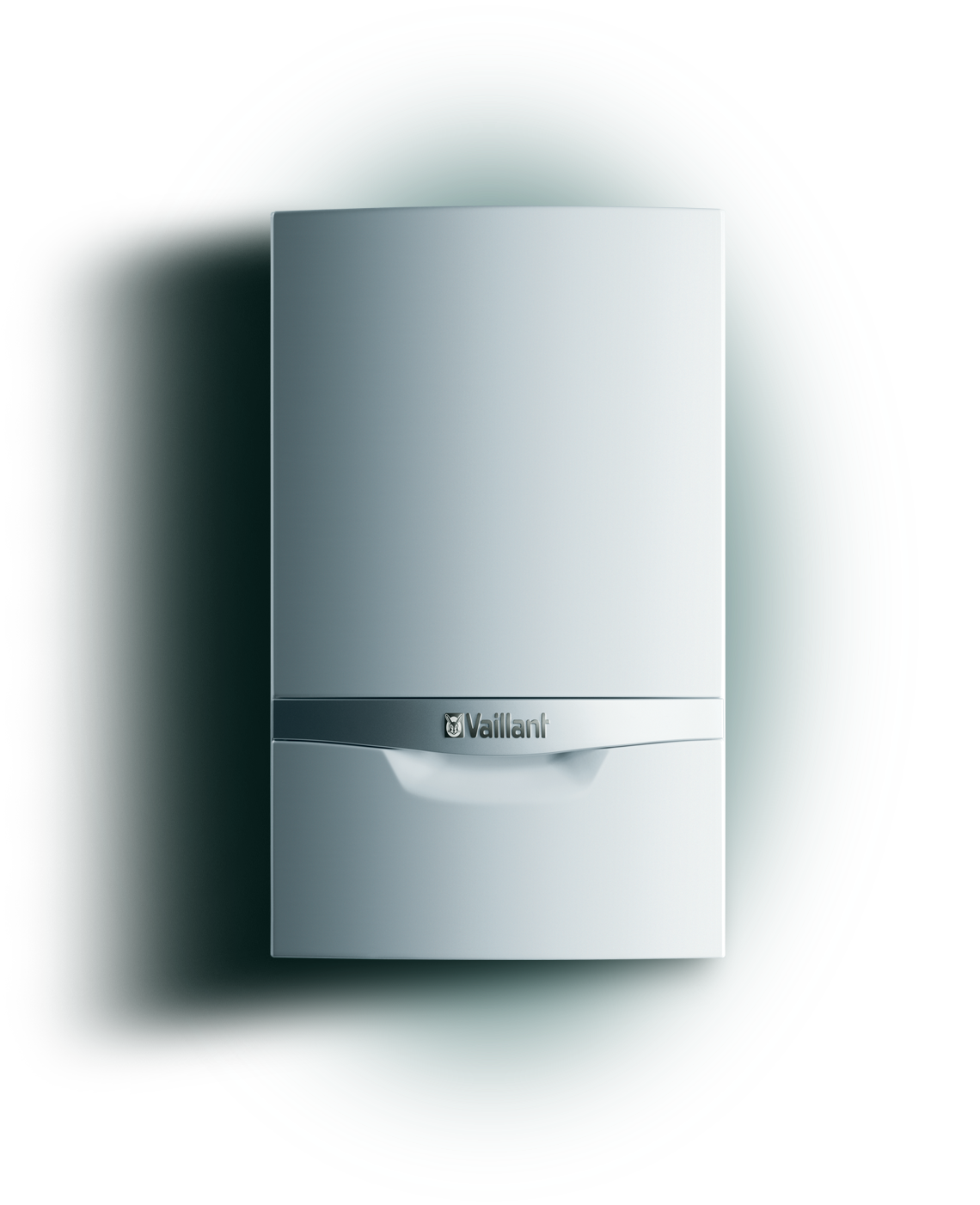 At Plumb Arena we supply a huge range of high quality reliable boilers sourced from the very best manufacturers, at the best possible price. We are committed to energy savings and reducing environmental impact and our range of boilers are all high efficiency condensing models. All of our boilers have undergone rigorous safety performance testing and are assured to provide you with a warm and comfortable home, and a plentiful supply of hot water throughout the year.

Choosing a new boiler can be a tricky process and at Plumb Arena, we are here to help. When it comes to boilers, there's no one-size-fits-all solution and your ideal boiler will depend on a number of factors such as the size of your home and family.

How much heat and hot water you and your family use each day will have a huge bearing on what kind of boiler you need. It's essential to have the right boiler as it will not only meet your needs, but save you money.

If you are looking for a high efficiency boiler, then a condensing boiler is your best bet. Condensing boilers actually use flue gases to recover more heat which other non-condensing boilers waste. The gases are effectively recycled and this cuts down on the amount of energy required to get your boiler firing. So not only will you save on your energy bills with a high efficiency condensing boiler, you'll also do your bit for the environment too.

Once you start looking at the different types of boilers available, it can be difficult to get your head around. We hope our boiler guide will help make things a little bit easier when it comes to choosing the right boiler for your home.
---
Selection Guide Index
---
SEDBUK Energy Efficiency Ratings
All heating boilers offered by Plumb Arena have been through a rigorous testing regime under the governments Energy Efficiency Best Practice Programme. With the co-operation of boiler manufacturers, and provides a basis for fair comparison of the energy performance of different boilers.
is a term which represents the average annual efficiency achieved in typical domestic conditions, making reasonable assumptions about pattern of usage, climate, control, and other influences. It's calculated from the results of laboratory tests together with other important factors such as boiler type, ignition arrangement, internal store size, fuel used, and knowledge of the UK climate and typical domestic usage patterns.

Current UK legislation states, that from 1 April 2005, all Gas Boiler installations in new or existing properties, must be Condensing Boilers (rated SEDBUK Band A or B). The same legislation for Oil Fired Boilers was applied as from 1 April 2007. From the 1st of October 2010, Band B Condensing Boiler installations are not allowed as part of revisions to Part L of the UK building regulations.
Heating System Maintenance & Corrosion Protection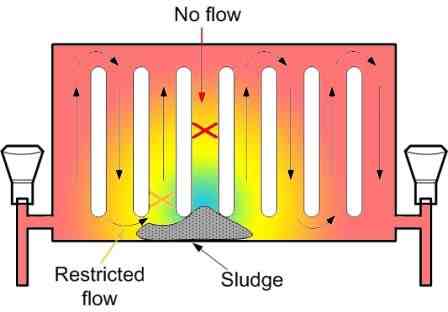 Over time sludge and deposits can build up in your central heating system causing it to become inefficient and more expensive to run. The solution is to get the system flushed and treated by a qualified heating engineer who is experience in gas boiler maintenance.

Carrying out heating system maintenance will improve efficiency and extend the life of your system and its components. If you're installing a new boiler in an existing system we recommend having your system flushed as part of the installation this will prolong the life of your boiler. Although there may be a cost to having this done at the outset, the future protection, running costs and sysetm efficiency will all be improved as a result.

How will I know if I need my boiler cleaning? If you are experiencing any of the signs below, you should contact a heating engineer for an assessment - you may need some boiler maintenance.
A reduction in the overall heat
Your heating takes longer to heat up
Cold spots in the system
Poor circulation
Excessive noise
Blockages in the system
Increases in your bills
Dirty water in the system
Why do I need central heating boiler maintenance? Black oxide sludge (magnetite) can build up in heating systems as a result of electrolytic corrosion and this reduces heat transfer efficiency. Limescale deposits can also result in efficiency loss and gas boiler maintenance is needed.

How is the system cleaned? To carry out a thorough boiler cleaning a heating engineer will powerflush the system with a mechanised pump using a combination of mains water and a specialised cleanser.

How long should boiler cleaning take? For a basic system flush which cleans the whole system in one go it will take approximately 2-3 hours. For a more thorough system flush you could choose a power flush this will take about 1 day and each radiator will be cleaned individually using a high powered pump.

Remember, cleaning alone will not solve the problem. It is important that for full boiler maintenance the system is also treated with a chemical inhibitor to prevent future corrosion. Plumb Arena provide a full range of cleansers, inhibitors and filters to assist in this process.
Combination Boilers
Combination boilers – or combi boilers as they are becoming more commonly referred to as – are a cost effective way to heat your home and water. Effectively, a combi boiler is an on-demand method in that it does not involve any storage, rather it heats the cold water instantly from the mains, giving you hot water and heat just when you need it.

A combi boiler has the added benefit of providing you with mains pressure hot water, meaning to there's no need to install a pump for a mains-operated shower. No storage tank means you will save on space in your loft too and also reduces the risk of leaks and burst pipes.

Combi boilers are proving increasingly popular due to their high efficiency. Because you only switch the heat and hot water when you need it, you aren't paying for water you don't need. Larger homes and families may require a combi boiler which has high flow rate and heat output, while those living in smaller properties may only need a more compact version.

When choosing a Combi boiler, it is important to establish the required central heating heat output and hot water flow rate suitable for your requirements. Flow rate is hugely important and the incoming cold water mains pressure and flow rate must be adequate to meet the demands of the boiler manufacturers recommendations and that of the property occupants.

As an estimation of the required size of a combi boiler in relation to the property size, please see our recommendations below. The guidance of a suitably qualified heating installer must also be sought prior to making your purchase decision :-
24kW Combi Boiler - 1/2 bedroom apartment or small house
30kW Combi Boiler - 2/3 bedroom house with 1 bathroom
35kW Combi Boiler - 3/4 bedroom house with 1 bathroom
40kW Combi Boiler - 3/4 bedroom house with 2 bathrooms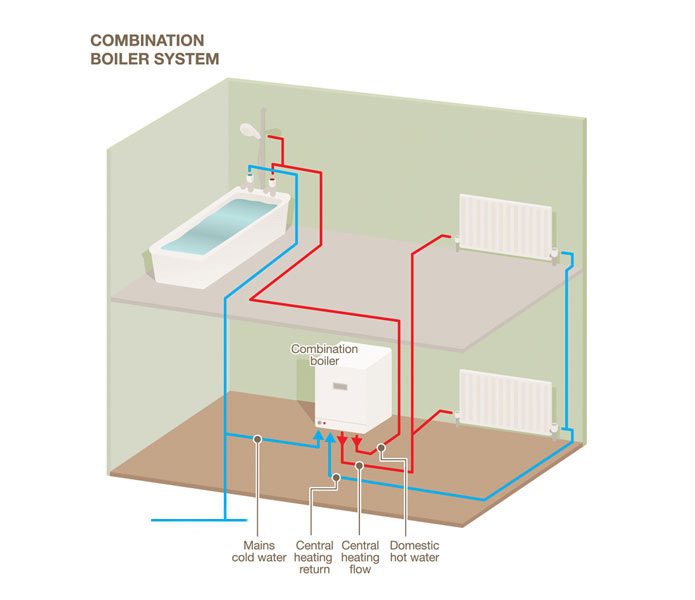 At Plumb Arena, we supply a great range of boilers for our customers from trusted brands such as Worcester, Vailliant, Potterton, Ideal, Glow-Worm and Baxi. Many modern combi boiler are also available with extended warranties up to 10-years so please do call us for further information.
Regular and System Boilers
Many older properties will most probably contain heating systems which use regular or system boilers. If you are looking to replace an older model such as one of these, Plumb Arena have a wide range to choose from.

Regular boilers are also referred to as conventional boilers or open vented boilers. The boiler provides central heating and hot water through a separate hot water cylinder. This is usually found in a an airing cupboard and is itself fed by one of two feeder tanks which contain cold mains water. Most homes will have their cold water feeder tanks in the attic and there's normally one for hot water and one for central heating.

One of the main advantages of a regular boiler is that it can supply hot water to a number of different outlets throughout the home at the same time.

System boilers work in much the same way in that they heat the home and water separately.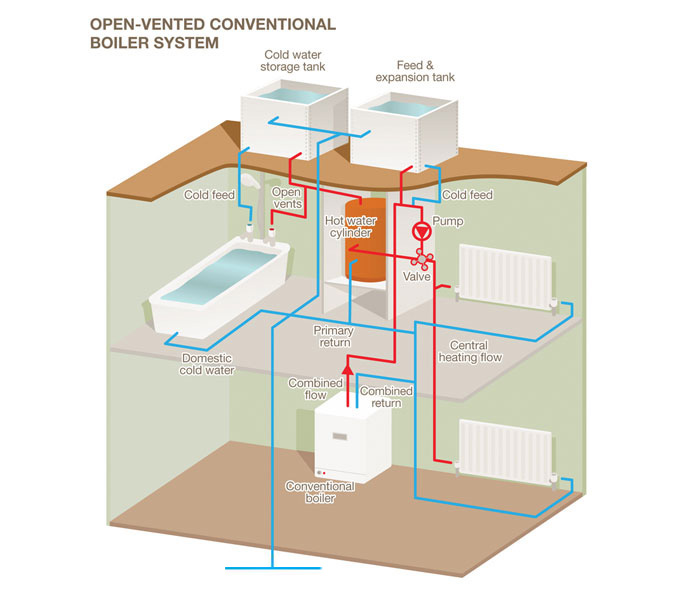 However, system boilers are slightly more compact than regular boilers in that they have components such as the modulating pump and expansion vessel built in whereas conventional boilers do not.

Of course, hot water cylinders and feeder tanks take up space, but if you are looking to replace an existing system, we recommend you consider the regular and system boilers made by Worcester, Vaillant, Glow-Worm, Ideal, Baxi and Potterton which are available from Plumb Arena.

The type of boiler you have isn't the only aspect which will affect how efficient it is. The means by which your boiler is powered will also have a huge bearing on the cost. Your boiler must be sized correctly to match your properties heating and hot water demand. As a rule of thumb, the following will give you an idea of the likely requirements for various properties and their respective floor areas :-
Property built post 2007 or very well insulated = 35 - 55w/m2 of total floor area
Property built between 1996 - 2007 = 55 - 75w/m2 of total floor area
Property built between 1980 - 1996 = 75 - 85w/m2 of total floor area
Property built before 1970 with single glazing & solid walls = 85 - 125w/m2 of total floor area
So, for a property built in 1997 with a 150m2 floor area the heat demad is likely to be 150 x 65w/m2 = 9,750w (9.75 kW). The actual heat load and exact property requirements should always be verified by a suitably qualified heating installer.
Electric Boilers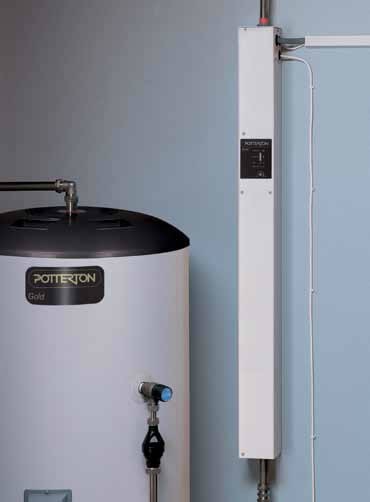 A compact, lightweight design makes for easy handling and a hassle-free installation. Compatible with standard radiators, programmers, pumps, room thermostats and thermostatic radiator valves.

Suitable for pressurised or open vented systems, providing domestic hot water from the boiler in conjunction with either an indirect or separate direct cylinder. Can also be linked in any combination to provide far greater outputs where required.

Check out our range of electric boilers to find one to suit your need. A electrically powered boiler is cleaner as there is no flue involved and no fuel, such as gas or oil. That means there won't be any heat loss and you won't have to pay a gas company or fill an oil tank.

As well as soft start and zero volt switching to help avoid power surges, min/max controls make it easy to adjust the water temperature output from the boiler, helping you get the most from wet central heating.

However, if you are using electricity to heat your home and hot water, as well as the many other things in your house which require electricity, then your electricity bill will end up being more expensive.
Back Boilers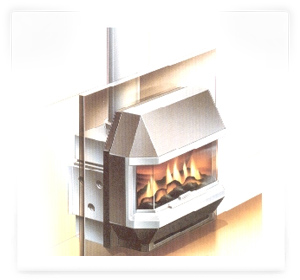 A back boiler is usually found within a brick built chimney breast and can be solid fuel or natural gas / LPG. Solid fuel back boilers are open or closed fronted fires and gas fired back boilers have a gas fire sitting in front of the boiler on a hearth.
Back boilers provide heating and hot water without taking up any valuable living space. Tucked away neatly behind the fireplace they actually create space in the property that would normally be taken up by a wall mounted boiler.
When the boiler is turned on, the compact back boiler provides heat for a traditional hot water cylinder.

Many older properties may already have a back boiler, but if you want to install one, make sure you contact an installer who is Gas Safe (formerly Corgi) Registered. Installation will involve the boiler itself, and possibly a tank and water cylinder. Modern Baxi back boilers are now available as gas fired condensing back boilers.

Natural Gas Boilers
Natural gas boilers are powered thanks to mains-supplied gas. The type of gas piped into the boiler is largely methane – or Natural Gas. Gas boilers have become very popular because of the convenience of mains-fed gas, which means the fuel isn't stored at home, and a number of different suppliers providing keen competition in terms of pricing.

However, mains gas isn't available everywhere in the UK, so this option isn't open to all. If you are thinking of having a gas boiler installed, you should only deal with a Gas Safe Registered Installer.

Natural gas is still the cheapest form of heating fuel in the UK at the moment. However, with the recent onset of renewable technologies such as Biomass and Heat Pump appliances some renewable systems claim to be less expensive than natural gas to run.

LPG Boilers
For those unable to access mains-supplied, an LPG (Liquid Petroleum Gas) boiler may be an option. These kinds of boilers are operated thanks to an external refillable LPG cylinder which is piped into the boiler. Natural Gas boilers can be converted into LPG boilers but again, this type of work should only be carried out by Gas Safe Registered Installers.

Oil Boilers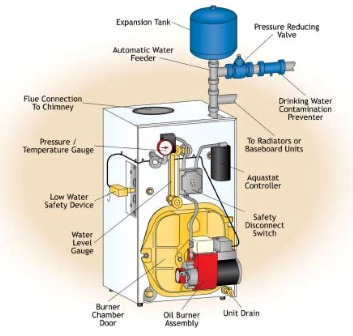 Oil boilers are another alternative for those who don't have the option of mains-fed Natural Gas. The oil is stored in a large tank outside the house and piped into the boiler. The tank is filled whenever more oil is need and because you aren't tied to one supplier, you can always shop around when it's time for a refill.

In terms of efficiency, there's little between oil boilers and gas boilers, although oil boilers do produce more CO2 emissions than their gas counterparts, making a bit more harmful to the environment. As with most boiler installation, oil boilers can only be fitted by certified installers. In this case, they must be OFTEC registered.

At Plumb Arena we pride ourselves in offering the best advice and the UK's very best manufactured products for our customers. Many of our boilers carry fully backed manufacturers warranties of up to 10-years. In order to maintain warranty cover, it is vital that the homeowner complies with the manufacturers maintenance recommendations and that all work is undertaken by suitably qualified tradesmen.

For all your new boiler needs, call Plumb Arena today on 0845 528 0777 and we will strive to find a solution that both meets your expectations and budget.
---