Our Heating Control Guide -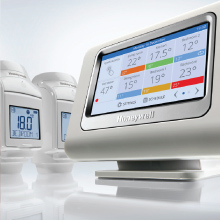 At Plumb Arena we supply a huge range of high quality reliable controls sourced from the very best manufacturers, at the best possible price. We are committed to energy savings and reducing environmental impact and our range of controls are aimed at saving you money.
Effective heating control is becoming an increasingly important part of energy management and many of our our customers are looking for ways of ensuring that they save money on energy bills but still remain comfortable in their homes. At Plumb Arena, we are always available to offer help and guidance on modern controls and applications within the home.
All of our controls have undergone rigorous safety performance testing and are assured to provide you with a controllable, warm and comfortable home throughout the year. We hope you enjoy our customer guide for home heating controls.
---
Heating Controls Index
Programmable Room Thermostat >
Internet Connected Smart Controls
Central Heating Control Pack >
---
Overview of Controls
With heating controls, the power to save is in your hands. OK, so oil and gas prices may have an effect on how much your household's energy budget is, but with the right heating controls, you can cut your energy outlay and make your home much more efficient.
Most of the money spent on energy in a household goes towards heating and hot water. A staggering 80% of the cash we shell out to energy companies is used to either heat our homes or the water we use. Therefore, isn't it essential that we try and keep our energy use in check. This can be done in many ways using heating controls such as thermostats, timers, programmers and TRVs (thermostatic radiator valves). These provide temperature control as well as allow you to program when your heating and hot water come on and go off.
There are wide ranges of heating controls available at Plumb Arena, so you're certain to find the ones that will keep your home warm and cosy. We supply controls from the UK's leading manufacturers including:-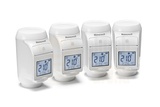 Honeywell
Drayton
Danfoss
Worcester Bosch
Baxi Heating
Potterton Gold Heating
Ideal Heating
Glow-worm Heating
Abacus
Salus
Using individual thermostatic controls for hot water can also save you money, as you aren't pumping a load of unwanted heat throughout the house just because you want a quick shower.
Different Kinds of Heating Controls
When installing modern heating appliances, it is important to update your central heating controls at the same time to maximize efficiency. Lowering your fuel bills and reducing carbon emissions are hugely important factors in heating the home.

Most modern central heating installations will require the following components to function correctly and to be Part L Building Regulations compliant:-
Central heating time switch or programmer
A room thermostat
A combined programmer and room thermostat
Hot water cylinder thermostat
Motorised zone control valves
Thermostatic radiator valves
Additional controls are available such as the Glow-worm range of outdoor sensors that act to limit the central heating operating temperature in direct relation to external temperatures.
Thermostatic Radiator Valves
A thermostatic radiator valve, commonly called a TRV, is fitted to a radiator and is connected to the incoming pipework instead of a traditional manual radiator valve.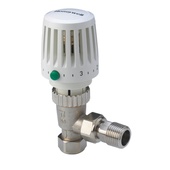 The TRV regulates the room temperature in the space it is located by sensing the air temperature and then limiting the flow of incoming hot water when the room temperature increases. Most TRV's have variable settings that are numbered, and the higher numbers represents a higher set temperature and lower numbers a lower set temperature.
It is estimated that TRV's fitted to all radiators in a property can save 17% on annual heating costs. Care should be taken to seek the advice of a competent person in order to verify the suitability of the boiler and circulation system and a slight modification may be needed to ensure the boiler has enough flow rate when the TRV's begin to close. It is also important to order the correct size as incoming pipework can either be 15mm, 10mm or 8mm.
Plumb Arena stocks and distributes a vast array of Thermostatic Radiator Valve's from many reputable manufacturers.
Room Thermostats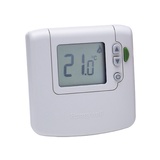 A thermostat is designed to control temperature. When you consider that just a 1 degree C drop in temperature could save you around 10% on your energy bill, it's worth getting acquainted with whatever kind of thermostat would best suit your home.
There are a number of different types of thermostats available. The most basic kind comes in the form of a small dial, which allows you to simply turn the temperature up and down. A room thermostat works by sensing the air temperature and, if it falls below a certain temperature, it can turn the heating on to heat the room. There are other more sophisticated versions that are designed to fit in with your lifestyle.

Programmable Room Thermostat
This combines two useful features of heating controls. It performs the same actions as a room thermostat, but also has a programmable option which allows you to set the minimum temperature the room must reach before the heating comes and also at what time you want the heating to come on.

The best way to save money with a programmable room thermostat is to keep it at the lowest setting which you feel comfortable with as moving it up to highest setting won't make the room heat up any quicker.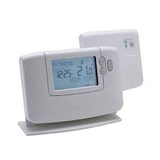 Once you have the programmable room thermostat at the desired settings, don't fiddle with it again as this may reduce its efficiency.

You will find that heating systems which consist of a boiler and radiators will just have a single programmable room thermostat, such as those made by Honeywell or Drayton, in the house. For variable temperatures in different rooms, you will need to have TRVs (thermostatic radiator valves) fitted.

TRVs can allow you to increase the heat in rooms which are normally colder and still maintain an efficient temperature in other parts of the house.

If your home doesn't have TRVs, then it's best to find an average temperature which is comfortable throughout the house.

Some programmable room thermostats can also contain features such as boost and advance that allow you to change the heating program without interfering with the normal settings.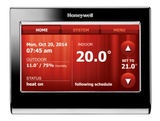 Internet Connected Smart Controls
The modern and most effective way of heating your home is by using smart controls, many of which can be monitored and controlled whilst the homeowner is away from the property.
Control Manufacturers 'Apps' (short for software 'Application') are available to download to smart phones, tablets, laptops and PC's. This software technology enables the user to remotely activate the heating system and very often, individual heating zones within the property. The user can select desired temperatures and timed functions giving ultimate control of comfort and fuel efficiency.
Some controls are even voice activated for the ultimate in user interface control.
The Honeywell Evohome system is a wireless multi zoning system centered on the evotouch eight zone controller. evotouch allows independent automatic temperature control of up to eight heating zones and one hot water.
Evohome allows you to control the occupied areas of your home at a comfortable temperature whilst the unused areas remain at a reduced temperature. This gives you maximum comfort combined with maximum energy saving.
Plumb Arena supply smart controls from some of the UK's leading manufacturers and we aim to continue to expand our range of controls in the comming months and years.
Cylinder Thermostat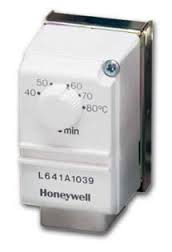 A cylinder thermostat controls the heat from the boiler to the hot water cylinder. It can normally be found on the side of the cylinder in the boiler and works in much the same way as a room thermostat in that it heats the water when it senses that it has dropped below a certain set temperature. Once the water is heated to the desired temperature, it turns itself off again.

In order to get the best out of a cylinder thermostat, the optimum temperature it should be set at is between 60 degrees C and 65 degrees C. Again, constantly fiddling with the settings will reduce the efficiency of the cylinder thermostat.

Motorised Valves
Another way to control the temperature of your home and hot water is by using motorised valves. These will direct the flow of water from the boiler to either your radiators, hot water cylinder or both.

Depending on the pipes in your house, motorised valves come in 22mm or 28mm and if you want to control the heat in different areas of the house, they can be used in conjunction with a central heating programmer, such as those manufactured by Honeywell and Danfoss.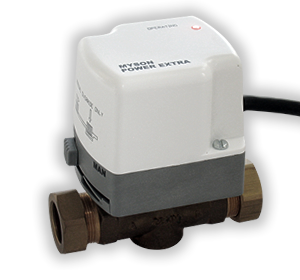 There are two main different types of motorised valves – zone valves and mid-position valves. Zone valves are also known as two-port motorised valves as they have two pipe connections – inlet and outlet. Two-port valves will only direct the flow to either the central heating or the hot water, never the two at the same time.

Mid-position valves – or three-port motorised valves – have one inlet and two outlet ports, meaning they can direct the flow to both the heating and hot water at the same time. They have a mid-position option which allows the flow to reach both outlets simultaneously.

Motorised valves, like those made by Honeywell and Danfoss, are available in a variety of different options, so take the time to browse and find out which would suit your needs best.

Central Heating Control Pack
For the convenience of customers, Plumb Arena provide a range of control packs to suit standard types of heating systems to control fully pumped flow shared and zoned heating systems.
Central Heating control packs are designed to give you exactly the right combination of controls to make your central heating system work more efficiently. Correctly installed the control pack will allow you more effective and economical control of your heating and hot water.
If you are serious about saving on your energy bills, then a central heating control pack represents excellent value. Packs such as the Honeywell Sundial and Danfoss Heatshare Pack provide you with all the different gear you need to take control of your heating system, such as room thermostats, motorised valves and central heating programmers.
Start saving today by checking out the wide range of central heating control products available from plumbarena.co.uk.
---