Honeywell Y87RF Thermostat Installation & RFG100 Gateway Offer
Honeywell Y87RF Thermostat & RFG100 Gateway Offer
Upgrade your home heating control and enjoy all the benefits of wireless heating with this fantastic offer.
Special Offer - £199.00 Fully Fitted
Plumb Arena team up with heating controls specialists Honeywell
Plumb Arena and class-leading control manufacturer, Honeywell , are pleased to offer our customers a supply and install option for a Honeywell Y87RF Single Zone Connected Thermostat and RFG100 Mobile Access Gateway for a special introductory price of £199.00 (including VAT @ 5%).
The Honeywell Single Zone Thermostat is a perfect replacement room thermostat. When fitted with a mobile access gateway, it becomes an internet connected device giving the homeowner the benefit of remotely controlling their heating system from a smartphone or tablet.

Award Winning Honeywell Heating App
Honeywell's award-winning 'Total Connect Comfort' app allows users to remotely monitor and manage their home comfort giving peace of mind and higher levels of energy efficiency.
Access via an iOS or Android device is enabled via the mobile access gateway. This gives you remote access to your thermostat and the ability to create six separate time and temperature profiles per day with the minimum of 5 degrees frost protection.
Simple Installation
The Honeywell Single Zone Thermostat comes pre-bound to the Wireless Relay Box making it very simple installation. Your professional installer just needs to wire the relay box into your heating system controls and bind your gateway for 'total connected comfort' control.
Y87RF Thermostat Offers Boiler and System Compatibility
The Single Zone Thermostat is a wireless thermostat that needs to be fixed to the wall in the most suitable place for temperature sensing.
The Honeywell Y87RF thermostat works with most modern heating systems, gas or oil. Combination boilers work excellently with this type of product and some heat only / system boilers are also compatible as long as there is an existing programmer, room thermostat or switching arrangement to turn the central heating on/off.
Some very old central heating systems were installed without zone valves or room / hot water cylinder thermostats and may require additional zone valves to enable a Honeywell Y87RF thermostat to be fitted. Please contact Plumb Arena for further guidance if required.
Existing Wireless Heating Thermostat Solution
You may already have an existing Honeywell wireless thermostat and wish to upgrade it to enjoy the added features of remote functionality from your mobile device.
It is very often possible to upgrade from an existing Honeywell wireless thermostat without any wiring alterations for a quick and convenient solution.
KEY HOMEOWNER BENEFITS
Wireless operation
---
Wireless digital room thermostat that provides a simple to use interface. It is battery powered with low battery indicator and pre-bound to the wireless relay box.
Use as part of an S or Y plan system
---
Each zone controllable from the TCC app using only one RFG100 mobile Access kit.
Use with a combi boiler
---
Use this for room temperature control with a combi boiler or connect to the unit to the internet and provide full time and temperature scheduling via the app.
Installation is easy
---
Just wire the wireless relay box into the system and it will communicate with the single zone room thermostat straight away. The wireless relay box can be wired directly to motorized zone valves or actuators.
Simple to use
---
Outer ring is the control dial; a simple twist of the dial will adjust the temperature set point up or down. No programming required. On screen battery status and RF signal check.
Install the Single Zone Thermostat with internet control
---
Just install the RFG100 Mobile Access Kit at the same time.
Use as a Programmable Thermostat
---
Once connected, you can also use the Total Connect Comfort App to provide a combined time and temperature profile of 6 time periods a day variable by day for each of 7 days.
Perfect for UK homes
---
The set point range is 5 – 35 degrees C in 0.5 degree increments.
Energy saving TPI control
---
Temperature, proportional and integral control for optimal system efficiency.
Security features
---
Programmed range features a stop function so that the room will not go above or below a set point.
Installation Guide
Technical guidance on the installation and commissioning of the Y87RF for the professional installer can be downloaded below.
User Guide
This user guide will take you through the Honeywell's Y87RF features and user interface.
You can also access frequently asked questions here...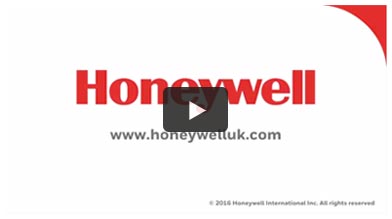 How to Bind your Honeywell Y87RF Single Zone to a Wireless Relay
Watch the Honeywell wireless binding process video for the Y87RF.
Terms & Conditions
The products supplied and installation work will carry a full 12-month product and workmanship warranty. All work will be completed by a member of the Honeywell Installer Network who will contact the customer to arrange installation within 2 working days of us receiving an order.
Any in-warranty issues should in the first instance be reported to the installer. Should a product be found to be faulty within 12-months of supply, Plumb Arena will replace the item free of charge and your installer will re-fit if necessary.
VAT Efficiency Eligible
Purchasing an installation from Plumb Arena as well as the thermostat reduces value added tax (VAT) from 20% to 5% under the UK's reduced rate of VAT for energy efficiency products.
This introductory offer may be withdrawn without notice.