Green Deal Home Improvement Fund
Save Cash with the Green deal Home Improvement Fund - Second Release Update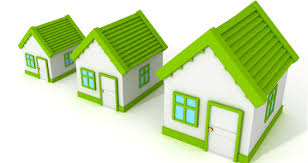 House owners carrying out energy efficiency improvements on their home can now get more money back to offset the cost of having the work done.
People in England and Wales will be able to get up to £1,850 back through a new Green Deal Home Improvement Fund so they can take control of their bills and have warmer, greener homes.
The scheme helps people to install energy efficiency measures such as solid wall insulation and new gas condensing boilers by providing them with money back on the contributions they make towards improvements.
The average annual bill saving from installing major measures such as solid wall insulation in a three-bed semi-detached house is £270, while savings from other measures such as upgrading a boiler can knock around £100 off a customer's bill.
Under the new incentive scheme, which is available from June, domestic energy customers can get:
up to £1,250 for installing two measures from an approved list; and/or
an additional £500 if you apply within 12-months of moving into a home; and
up to £100 refunded for their Green Deal Assessment.
The scheme also entitles those who have bought a property in the 12 months prior to application to qualify for up to an additional £500 if they carry out energy efficiency improvements.
The Green Deal Home Improvement Fund also applies to private or social landlords, who can benefit if they undertake to improve the property and are paying the costs themselves.
Qualifying Measures
Condensing gas boiler (on mains gas)
Double glazing (replacing single glazing)
Secondary glazing
Replacement doors
Cavity wall insulation
Floor insulation
Flat roof insulation
Room-in-roof insulation
Replacement warm air unit
Replacement storage heaters
Waste water heat recovery systems
I order to qualify for the GDHIF payment, the applicant must have either an EPC or Green Deal Assessment less than 2-years old and it must recommend the improvement measures that the applicant is applying for. You must also have a formal quotation for the works from a registered Green Deal Installer and the quotation must :-
Have the name of the installer and registration number
The name of the homeowner
The address of the proposed works
Help in the home from Plumb Arena