Honeywell Connected Heating Thermostats Launch
Voice Controlled Connected Thermostat - They are here !!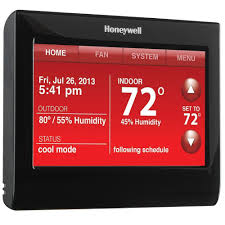 Here at Plumb Arena we are pleased to announce the launch of a new range of smart control for homeowner heating systems.
Once again, Honeywell are providing innovative technology for the customer to be fully in control of their heating system.
Voice activated technology is now established as a new way of controlling many different devices and makes changing the room temperature even easier. This is the first control of its kind in the UK and it re-enforces Honeywell's position as leading the market in great technology for UK homeowners.
Equipped with energy saving TPI control, this device is sure to be a hugely successful and valuable addition to home energy comfort and control.
7 Day wired programmable thermostat that can control any system and any boiler
Each day has set activity points to make programming more intuitive - i.e I'm waking up at; I'm leaving at; I will return home at; I'm going to sleep at
Auto, manual override, and off (frost) modes
Voice activated recognition and control (on-device only) that allows the temperature setting to be adjusted in the home by talking to the thermostat
On-screen Comfort Information - See outdoor temperature, weather and humidity information available via the home screen
Total Connect Comfort App - Allows user to remotely monitor and manage the home's comfort anytime, anywhere.
Wifi connection between the voice controlled thermostat and the home broadband network is built into the thermostat—no additional modem or wiring required. Easy set up of the Voice Controlled Thermostat on your home network.
Optimum Start Functionality
Customizable colour touch screen- Easily change the high-definition display to any colour you choose
Single Zone Connected Thermostat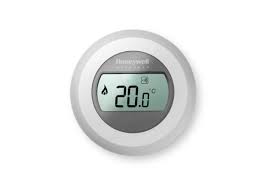 One of Europe's best kept secrets has been the success of the Honeywell single zone room thermostat. Installed in thousands of homes, this simple to use, attractive room thermostat, in its new wireless form, is now available in the UK.
Adding the ability to remotely control room temperatures to a standard simple to use room thermostat will make the connected home more affordable for many customers.
Add to this the ability to make the room thermostat operate as a programmable thermostat and it becomes the first choice for hundred of replacement room control situations.
This product is again equipped with energy saving TPI control and the device is sure to be a hugely successful and valuable addition to home energy comfort and control.
Wireless digital room thermostat that is perfect for upgrades
Remotely controllable via the Honeywell App
For any system, any boiler
Can become a programmable thermostat when used with the App
We will keep our customers informed of the anticipated product availability dates and we will be taking pre-orders as soon as possible. Check-back soon!
Keeping our customers 'in-touch with technology' from Plumb Arena