Huge Savings with the Honeywell evohome
Great Home Energy Savings for you !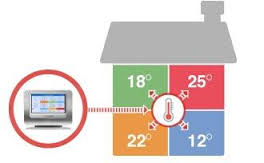 p>The new Honeywell evohome intellegent control system is already getting rave reviews in a recent article published by the BBC http://www.bbc.co.uk/news/business-25779937 . The potential benefits are huge and a new Honeywell evohome system complete with radiator controllers can save a whopping £400 per year !!
Using your smartphone, or a central control panel, you can work out temperature profiles for every room in the house, and of course adjust them from anywhere in the world, providing there is an internet signal.
Honeywell, which makes the hardware in Scotland, claims you can save up to £400 a year on your energy bill by "zoning" your home in this way. And it says the system should pay for itself in two or three years. Further research was independently comissioned by TACMA and a report summary can be found here - TACMA REPORT.
Rest assured as an approved Honeywell evohome distributor, we are one of the leading UK stockists of the new evohome. This is based on the fact we have sizable evohome stock consignment orders in place with Honeywell. So start cutting your heating bills today and order yours now - CLICK HERE
Plumb Arena - dedicated to customer comfort, control and energy efficiency