The Green Deal Explained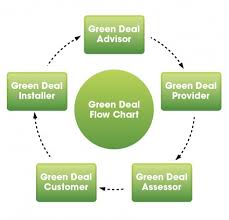 The Government's Green Deal program is a significant step towards making UK properties much more energy efficient and the great news for consumers is that it won't cost them the earth.
Introduced in October 2012, the Green Deal allows property owners to have energy efficient measures installed in their homes or offices without out the need to fork out a huge lump sum at the outset.
The scheme is paid for gradually through energy bills over a set period of time. Energy efficiency is designed to save the earth, but the Green Deal won't cost you the earth either with the scheme's golden rule being that the cost of installing the energy saving measures must be lower than the savings the consumer is set to make. In what is being described as the biggest home improvement programme in the UK since the Second World War, the Green Deal is a kind of loan which you pay back over time through your utility bill. However, it is open to all, even if you have poor credit history and it won't be means tested.
This means that you when you vacate the home or office building, you don't carry the debt with you, it will continue to be included in the energy bill for that property.
Green Deal Providers
Specially accredited Green deal Providers will handle the whole process, from arranging the initial assessment, to the provision of finance and the installation of the energy efficiency measures themselves. You won't have to pay an upfront fee before the work goes ahead. The charge for the work will be subsumed into the property's energy bill, and paid off over a period of 25 years or less.
The provider will firstly assess the property and advise you on what specific energy efficiency measures you need to take. Only authorised Green Deal providers can give the go ahead for the work which need to be done to transform the energy consumption of your property. The finance you take out as part of the Green Deal scheme is passed straight onto the installers, meaning not a penny comes out of your pocket before then.
The finance, which is then included in the electricity bill, will be paid back over time by whoever inhabits the property, so even if you move one, the debt stays with the property. It's only natural because the energy efficiency measures will be enjoyed by the new owner of the property. And remember the 'Green Deal Golden Rule' – the savings you make must be greater than tha cost of the work. You simpily can't lose.
Helping the Nation with Plumb Arena